Our award-winning legal services are available between 8:30 am and 5:30 pm from Monday to Friday. We can see you outside these times by appointment.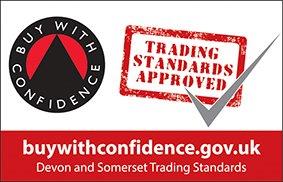 We are the only Trading Standards Buy With Confidence approved law firm in East Devon & Somerset and are the highest rated Trading Standards Buy With Confidence approved law firm in the South West. 99% of our existing clients would recommend us.
Our service is accessible, responsive and innovative and we always seek solutions to your problems and queries in an honest, straightforward and cost-effective manner using language you will understand.
We offer a free initial telephone consultation of up to 30 minutes with no obligation to proceed.
It may seem strange that a firm founded and based in East Devon has an office in Oxfordshire, however, there is strong connection between our Senior Partner, Derek Hunt, and Oxfordshire.  His family's ancestors can be traced back to 1690 and have been present in many villages in and around the 0xfordshire area.
East Devon Law LLP has been authorised by CILEX Regulation for the reserved activity of Probate
under Authorisation Number 2180277 and is independently regulated by CILEX Regulation. The Firm
is required to have a policy of professional indemnity insurance in place to cover all the legal services
which the Firm provides.